"A most interesting & original player..."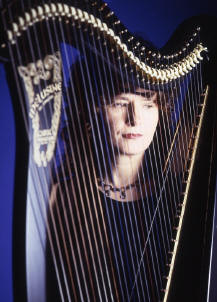 MÁIRE is one of Ireland's most important and influential traditional musicians, described by Live Ireland as "the greatest Celtic harper of our age" and by the late Derek Bell as "the most interesting & original player of the Irish harp today". She grew up in a well-known West Cork musical family who were active in the Cork Pipers' Club and was already proficient in a variety of other instruments by the time that she began to play the harp at the age of eleven. Using her knowledge of the idiom of the living oral Irish tradition, she developed a variety of new techniques, particularly in relation to ornamentation, with the aim of establishing an authentically traditional style of harping - "a single-handed reinvention of the harp". Her originality was quickly recognised and she made a number of TV and radio broadcasts as a teenager, going on to win the All-Ireland and Pan-Celtic Harp Competitions on several occasions. In 1985 she recorded the first harp album ever to concentrate on traditional Irish dance music, The New-Strung Harp. Her name, by the way is pronounced Moira Nee Ha-ha-sig
"If Máire wasn't around, Irish harping would be so much the poorer: her work restores the harp to its true voice."